Hello friends,
Change Email function have been restored and now it's available once again in the website at your Account Panel -> Account Settings.
Change Email function is only possible if you have access to your current email due security reasons of every infinitian. You will receive new email confirmation with link to click from
noreply@infinitymu.net
so make sure to check your inbox or spambox just in case your email provider marks it as spam even tho I've tested with gmail and our email does not appear/getting marked as spam email with Google services.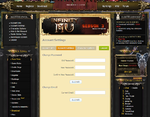 The confirmation email that will arrive to you will look like this:
Code:
Hello Venci,

This mail was sent as you have requested to confirm your email-address on your account (by :IPaddress:).
To confirm your email-address click the following link: here

Sincerely,
Your InfinityMU Team
Once you click on the link a new page will open in your browser and you will have to enter your new email and click submit and then you will receive new email (to your new email address inbox) from
noreply@infinitymu.net
with same content as above and click the link again to confirm your new email.
Thank You,
The InfinityMU Team
Last edited: