Staff member
​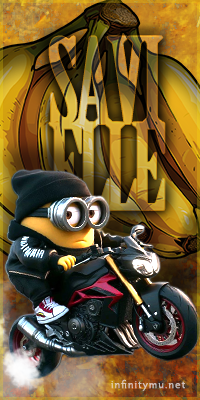 Joined

April 17th , 2020
Messages

592
Hello fellow Infinitians!

Im here to make Re-Application for the EM team.

Name : Raeann Suela
IGN: SAViELLE/SAV*/eLLeivaS

Guild: xOUTLAWx

Age: 26

Gender: Male

Country + Timezone: Philippines GMT +8

Discord ID: SAVIELLE#8722

Languages: English (7/10) Filipino (10/10)

Experience on InfinityMU:
First of all i play iMU to relieve stress but time after time i enjoyed and love playing it (since my first time i play the OG server webzen year 2009) I found my third family here which is i love most. I experienced a lot of bad and good things here in server but still we are one family here. And i really love to help some fellow infinitians/newbies or other member of this community for what they asking for. Not just the newbies but our fellow server.

Availability during a regular week:
I can play 6 to 8 hours everyday from Monday to Sunday, since my contract in work has ended.

What are your biggest weaknesses?
GOD and my Family. I dont think i have any weakness aside from what i mentioned.

What are your biggest strengths?
I think my biggest strength is i am determined to do something i want to succeed, I do multi-tasking, I can handle complicated situation, and lastly I do handle people by being flexible easy adopt once environment.

Why should we hire you?
Being consistent with what I love to do is the best part of me. i love this server and again its my third home. Ive learn from my experience, i learn to manage my time and i learn how to work with people around me.
Im confident that i have learn a lot of things about events. also i want to learn more from the staff team. I will do everything to help our community.

Thank you!